Home
About Us
Rates
Our History
Contact Us
12597 South Tamiami Trail
Warm Mineral Springs, Florida 34287
Email: wmsmotel@aol.com
Fax: (941) 426-2059
Phone: (941) 426-4029
Toll Free: (888) 694-7563



Area Attractions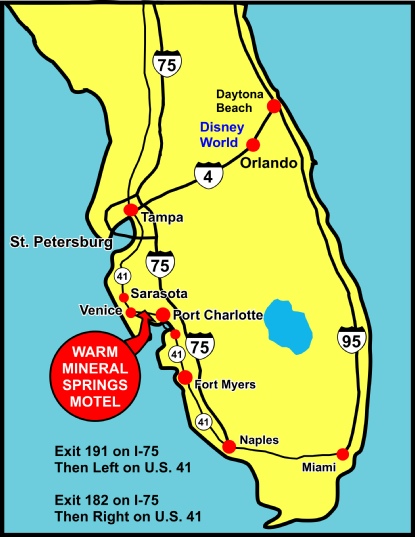 The World Famous Warm Mineral Springs Resort is less than one mile away. For those of you who want sport, there are a number of tennis courts, three golf courses and a driving range, all these are just five minutes away from the motel. Many more golf courses are within 15-25 miles away.
Fort Myers in the south offers the Thomas A. Edison Museum (the winter homes of Edison and Henry Ford), and a trip to the Everglades is really worthwhile.
To the North, near Tampa you will find Busch Gardens, Adventure Island, the Florida Aquarium, Lowry Park Zoo, the Seminole Indian Casino, and many more attractions.
Orlando contains Walt Disney World, Epcot, Universal Studios, Sea World and Gator Land. Just a short drive from Orlando is the John F. Kennedy Space Center.
Sarasota's beaches have been voted number 1 in the country, and the city itself is very clean and interesting. Just 30 minutes from the motel, it has many small shops, with a very attractive downtown area. Main Street leads you down to the bay-front with its park, restaurants, boat rides and live entertainment.
Venice is only 15 minutes away and offers a very nice historical downtown area. With many small shops, restaurants, live entertainment, and is not far from the beach.
The Southwest Florida Coast is a Gem and can serve all your needs in abundance, free brochures with all the information you need are available at our front desk.
Just imagine fresh air with clear skies and bright sunshine. Endless Gulf Coast Beaches for the seekers of peace and tranquillity, or its sparkling blue waters for those who want to swim, go fishing, boating, surfing or diving. Southwest Florida has something for everyone!
So, have fun during the day. Then when the day is over, and you have done and seen all the things you wanted to do, what could be nicer than to go back to a tropical motel with its casual, friendly atmosphere? Our little piece of paradise awaits you!
After Checking-In, You are Now Ready to Enjoy Your Vacation! …





Click on Airports to view their websites for reservations and flights.